Halloween is coming. It's the most spooky time of the year when creepy creatures wake up — witches stick together, and warlocks and wood goblins prowl for prey.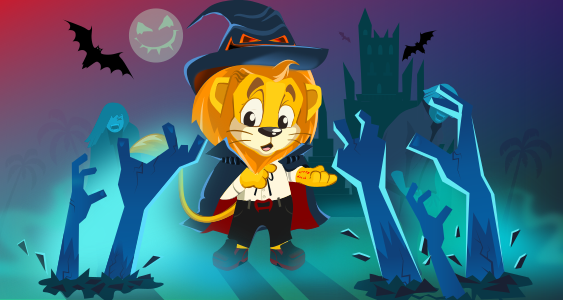 Our Leo completely forgot about that, decided to look around his place, and wandered into the deepest part of the jungle. And came across a bunch of angry and very hungry zombies.
A lion is a lion. He fought so desperately that he beat almost all of them. But one of the most sneaky zombies managed to bite Leo by the tail and infect him with a terrifying zombie virus.
Now Leo's life is in your hands.
How can we save him?
Answer all 10 questions of the quiz. Each correct answer will bring Leo one step closer to recovery and vice versa. Watch how his appearance changes and pay attention to the hints that he leaves you.
If Leo feels better, you win and the 50% discount on Premium is yours!
But if he does not, it means that the zombies turned out to be stronger. And you will receive a consolation prize — 25% off on Lingualeo Premium.
Important! You can take the quiz and use the discount only from October 18 to November 1 inclusive.
By the way, you can only fight zombies if you are already 18. In such a risky battle, not only Leo can get hurt, but you too, after all.